Field Safety Preparedness Helps Injured Researcher
What happened?  
A research group was performing work at a remote research location that is only accessible from the base camp by skiing. When returning from the research site to the base camp alone, a researcher fell which resulted in a 3-inch cut down to the bone and a bruised patella. The area had no cell phone coverage but the researcher used their 2-way radio to call for help.  The research group at the base camp called 911 for the evacuation of the injured researcher. The researcher received stitches and was given antibiotics at a nearby hospital. They returned to work the next day.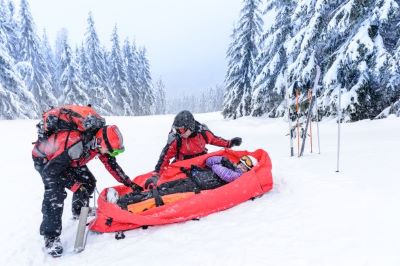 What was the cause?  
No specific cause for the fall was identified. However, fieldwork, especially in remote locations, can be highly hazardous. Difficult traveling conditions are an example of a fieldwork hazard. As such, it is very important to be properly prepared in case of an emergency.
How can incidents like this be prevented? 
While it is unclear how this incident could have been prevented, the impact of incidents like this can be controlled through comprehensive preparation and planning. In this incident, the research group had an established plan to get medical help in cases of emergency. Thus, the researcher knew how and when to call for help. Furthermore, the researcher had been trained in wilderness first-aid, which they used to stop the bleeding. The combination of these two steps allowed the employee to minimize the health impact of the injury.
Precautions
Assess potential field hazards

Assemble a written Field Safety Plan that includes emergency procedures and identifies how to alert emergency services nearby

Receive basic training on first-aid, ideally wilderness first-aid, leadership skills, basic outdoor skills, and specialized skills necessary for the research project

Have multiple devices of communication (for example a charged cell phone, field radios, satellite phone/device, or personal locator beacon; extra battery or charger) to ensure that a means for calling for help is available.

Adopt a buddy system so that if someone is injured, another person is immediately present to provide aid and/or call for help
Resources
University of California Field Operations Safety Manual